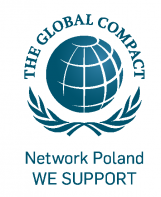 AKLEGAL Law Firm for United Nations Global Compact
AKLEGAL Law Firm signed a contract on comprehensive legal and tax services with United Nations Global Compact, an initiative of the Secretary-General of the United Nations.
AKLEGAL is the first law firm in Poland, which the UN Global Compact invited to support their activities in such a wide range.
This agreement is a continuation of activities performed for nearly 2 years by AKLEGAL for the UNDP and the social economy entities under the "Angel of Social Economy" program, in which the founder, advocate Artur Krzykowski, PhD, personally participated.
The AKLEGAL Law Firm supports for a longer period of time social institution by sharing their knowledge and experience gained over the years in providing assistance in legal and tax issues.
Corporate social responsibility is not just a slogan for us, but a determinant to take appropriate action to support social initiatives. Cooperation with the UN Global Compact, an initiative of the UN Secretary General, it is great honor for us and we are glad that our team can support such a recognized organization.
For more information, please visit the following website:
http://www.legalnews24.pl/artykuly,10210,21142,kancelaria-aklegal-dla-united-nations-global-compact